Mission Statement
Morgantown Bank & Trust is an independent financial institution which strives to be an asset to our communities through community involvement. We understand the importance of our employees and strive to attract, develop, and retain employees of the highest character and competence. We will provide financial products and services which move our community forward, while maintaining growth and a reasonable return on shareholder equity.
Our History
Morgantown Deposit Bank was established in 1880 by a special handwritten charter signed by Governor Luke Blackburn. According to the charter $10,000.00 worth of stock was sold and T.C. Carson was elected President.
Business began in June 1880, in the back part of Kelly Dry Good Building.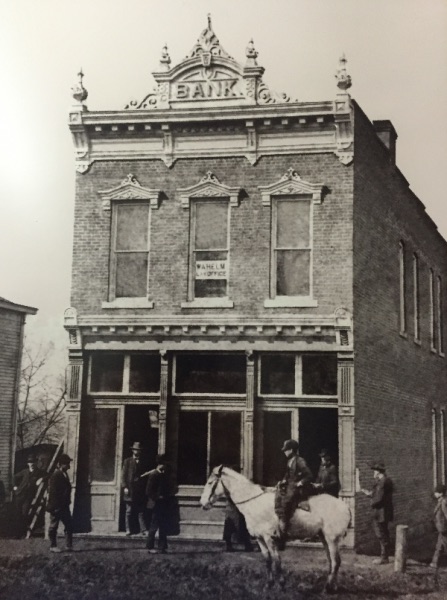 In 1885 the bank moved into their new two-story brick building. The bank remained at this location for seventy-six years until a new modern building was constructed across the street in 1961. The new building contained a drive-through facility, the first in the county.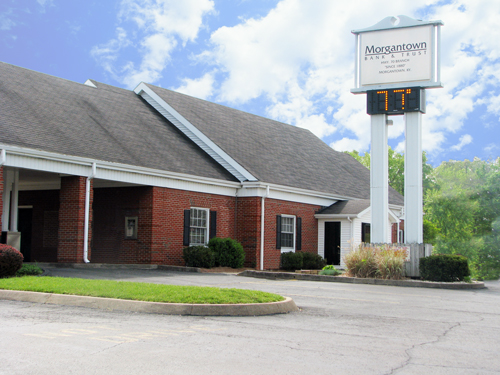 A new branch bank, our Highway 70 location, opened in 1971 and the bookkeeping department was moved into a house located behind the main office. Tyler street drive-through was opened in 1977 and operated for 33 years.
The name of Morgantown Deposit Bank was changed to Morgantown Bank and Trust in 1984 when full trust powers were granted. Expansion to the main bank was done in 1986 with a new addition adding several new offices and an enlarged parking lot.
The Data Center was built in 1994. Not only is this addition the center for bookkeeping but is the meeting place for the bank's Board of Directors. This building also boasts a large meeting room used for bank sponsored community events.
A new branch office, Morgan Manor Branch, was built in 1996. Located on Highway 231 south of Morgantown, this facility was a full-service bank with a drive-up ATM and three drive-thru lanes. This office operated until mid-2015 but was closed due to the highway construction project that widened Hwy 231 to 4 lanes in Morgantown, resulting in the loss of a portion of the branches parking lot.
In 2010 we expanded our services into Warren County. Our first Bowling Green office, located at 1848 Morgantown Road, was completed in March of 2010. Bowling Green was also the home of our next location opened in the Spring of 2012 located just off Campbell Lane on Christian Care Way.
In 2014 and 2015, the bank completed several construction projects including the complete renovation of the interior of our Main Office in Morgantown. The bank then relocated the Bowling Green office located on Christian Care Way to a bigger location in Thoroughbred Square off of Scottsville Road. MBT continued this busy construction phase in the Summer of 2015 by completely renovating the Hwy 70 location and opening a new drive thru facility that is attached to the Data Center.
In the Spring of 2022, Morgantown Bank and Trust created a new division of the bank called My Town Bank. My Town Bank opened its first loan production office in Nashville, TN. The Summer of '22 also saw the expansion and widening of the drive thru lanes of our Hwy 70 office.
These facilities offer the same services and benefits to our customers just like we've been doing since 1880.
Throughout its history the bank has weathered wars, floods, depressions and other setbacks but has never closed its doors. Today the bank is a sound progressive financial institution offering its customers a wide range of services.
{beginAccordion}
Board of Directors
Sam Moore
Chairman of the Board
Shane Wells
Vice-Chairman of the Board
Jason Jones
President/ CEO
Tom Jones
Holding Company CEO
Charla N. Snodgrass
Retired State Government
Gerald M. Jones II
Funeral Home Director
Robert Taylor
Farmer
Officers
Tom Jones
Chief Executive Officer
NMLS #460931
Jason Jones
President
Chief Financial Officer
NMLS # 460932
Ken Smart
Senior Vice-President
Nashville Market President
NMLS# 460924
Chris Young
Senior Vice-President
Chief Credit Officer
NMLS# 791074
Darrell McKee
Senior Vice-President
Loan Officer
NMLS# 460930
Allen Bell
Vice-President
Retail Branch Operations
Laura Lynch
Vice-President
Human Resource Officer
Greg Gay
Vice-President
Commercial Lending
NMLS# 469968
Mark Embry
Vice-President
Loan Officer
NMLS# 460925
Jarod Amos
Vice-President
Loan Officer
NMLS# 464488
Stephanie Beane
Assistant Vice-President
IT Director
Amber Smith
Assistant Vice-President
Loan Officer
NMLS# 1667576
Angela Hope
Assistant Vice-President
Branch Manager
Regina Martin
Assistant Vice-President
Branch Manager
Gloria Slaughter
Assistant Vice-President
Compliance Officer
Carol Southerland
Assistant Vice-President
Board Secretary
{endAccordion}